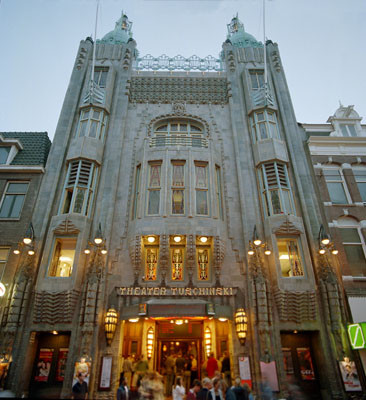 TUSCHINSKI MULTIPLEX CINEMAS: A PROFITABLE NEW CONCEPT
The multiplex cinemas are based on the synergy forming in the American Urban Entertainment Centers.According to Beyard, three elements form the fundamental
parts for the synergy of a UEC.
Synergy formation in UEC's Beyard (1998) explains the application of synergy by the hand of using the three elements in the American Urban Entertainment Centers.
What are the three synergy elements?
1. Entertainment
Experiential consumption
Experience that is pleasurable yet ephemeral
2. Dining
Literal consumption
Food and/or beverage to be consumed on the spot
3. Retail
Acquisition consumption
Objects to take home for long-term or later enjoyment
UEC consumption modes: Trinity of Synergy, source: Beyard 1998, p. 31
UEC's are modern, but Tuschinski Multiplex Cinemas are traditional, warm, inviting covered shopping centers with lots of entertainment and hospitality, based on the Tuschinski architecture. The concepts we would like to apply to our Tuschinski Multiplex Cinemas will be used to create synergy.
INTEGRATION OF SYNERGIE
By the integration of a cafe and restaurants, the synergy within the cinema is increased. A theme restaurant, such as for example a Buddha bistro bar could be an addition and a crowd puller. For the kids, we think of a kids' palace.
It is essential to establish a number of Tuschinski shops in the multiplex cinemas, related to the needs of the cinema visitors, such as:
Clothing stores,Gadget stores,Play game space,Music/movie/book stores   
Merchandising, Kids' palace Kids' daycare center,Jewelry stores, Perfumery Bijouterie ,Buddha Fortune teller Bars& Restaurants and Las Vegas Hamburg fastfood
In the Netherlands and in other European countries- in addition to extra screens and halls, cinemas offer little to no special provisions. There is almost no talk of synergy between the various functions. Almost all cinemas more or less use the same concepts and therefore all of them are alike in design and in the provisions they offer.
Experiences and scientific research have led to the following conclusion: It is of obvious importance – in addition to a large number of halls and chairs – to establish the above mentioned stores based on the Tuschinski architecture and its warm ambiance in the new buildings of the Tuschinski Multiplex Cinemas.
The above mentioned visitor combination including showing a good movie in the halls and the provisions that make sure the movie experience and the cinema atmosphere will be increased, are important within the to be established Tuschinski Multiplex Cinemas .If it will be this way than the synergy inside the movie cinemas is stimulated.
TUSCHINSKI MULTIPLEX CINEMAS NEW ADDITION FOR THE CINEMA VISITORS.
To meet as many wishes of the cinema visitors as possible, we came up with the idea for the Tuschinski Multiplex Cinema. A cinema with at least 8 halls and a chair offer of at least 3000 chairs. Based on the architecture, house style and the personal touch of the world famous Tuschinski Theater in the Netherlands. The Tuschinski Multiplex Cinemas are provided with hospitality provisions and stores as described earlier. In the future, this form of cinema will have and get an even more important market share in the total cinema offer of the world.